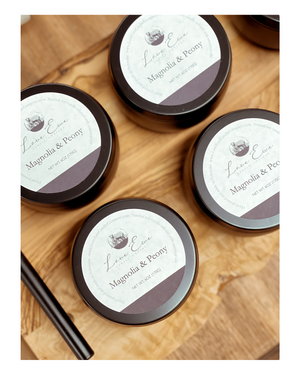 Love Ewe Candle | Magnolia & Pe-Magnolia & P
Love Ewe Candles are created with fragrances that are free from phthalates, carcinogens (cancer-causing substances), & reproductive toxins that can be found in many other fragrances.

Each candle is hand-poured and curated with natural soy wax that's grown in the USA, high-quality scents infused with essential oils, and natural wicks!

Lots of time, love, and detail was put into these candles with EWE in mind. We know you will absolutely enjoy your experience with a natural, hand-poured soy candle!
Magnolia and Peony is the complex floral powerhouse you've been waiting for. Delicate yet satisfyingly bold. 


6 oz reusable tin with lid.